Services » Esthetic Dentistry
Esthetic Dentistry: for us function and esthetics are interlinked
Ceramic crowns
Especially in the esthetic domain the application of new metal free materials, such as zirconia ceramic (solid ceramic), is preeminent in terms of looks, stability and compatibility.
Esthetic Veneer Technique: ceramic veneers for front teeth
Ceramic inlays: custom-made tooth colour for lab-made dental filling
Bleaching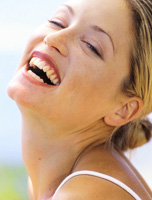 Bildquelle:
VITA Zahnfabrik H. Rauter GmbH & Co. KG
Office Bleaching is a technique by which teeth are brightened through the application of peroxide gel in adequate concentration and controlled residence time. This method is scientifically safeguarded und proves long term positive results. Drugstore products for self appliance are less efficient.
Prophylaxis
The purpose for prophylaxis is the avoidance of dental disease: caries and paradontosis.
Prophylaxis is of significant importance for each age group, from infants over teenagers to adults. Prevention is always better than treatment!
Prevention is always better than treatment!
Our practice offers biannual check-ups for children, youths and adults.
Recall
At option our recall system will remind you of due check-ups.
Professional tooth cleaning (PTC) by specifically trained staff
An in-depth tooth cleaning includes the removal of hard and soft plaque through ultrasound, hand instruments and airflow.
Airflow
Coffee, tea and tobacco staining can be removed gently and free of pain with a salt jet, especially thoroughly between interdental space.
Fissures sealing
Plastic coating of the chewing surface covers the indentations of grinders (fissures) which are prone to caries.
Fluoridation enamel hardening with fluoridpreparation